| | | | |
| --- | --- | --- | --- |
| Utility Locator Training Programs | | | |
1-Day Subsurface Utility Locating and Marking Workshop
---
Our most popular course !!!!!
Training Objectives: Course provides a balanced mixture of classroom training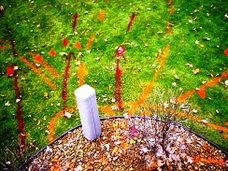 combined with hands-on training performed outdoors. Participants will gain an understanding of the fundamentals of line locating and marking as well as related laws, standards and regulation. Special Emphasis is placed on mastery of the electronic detection equipment and troubleshooting techniques to solve utility locating puzzles.
Who Should Attend? This program is designed for experienced employees who's job may require them to perform line locating activities as part of their assigned duties. Course covers the fundamental principles involved in accurately and safely locating buried lines. Course hours are documented and certifications issued to experienced employees who pass the written and field testing.
View Open Enrollment Event Calendar >> View Course Flyer >>
---
2-Day Advanced Utility Locator Training Courses
advanced classroom and field training & skills verification testing
Designed for individuals with experience performing line locating.
Multiple types of detection equipment

Different locating methods & techniques

Multiple types of underground utilities

Troubleshooting Tips, Tricks

Round Table Discussions of issues pertinent to each participant

Field Activities include locating and mapping all utilities on site

Advanced Certification Testing
* private classes available - contact uta
---
Pipeline Locating and Damage Prevention Training
What you will learn
Program focus is on the methods and applied best practices for locating, marking and protecting underground systems buried within the gathering and transmission network of buried lines. We address pipeline specific challenges and solutions as well as best practice basics. With 50% of the training done outdoors, students will enjoy the opportunity to apply classroom training hands on
.
1 Day Pipeline Locator Qualification Class - designed for experienced pipeline field employees
2 - Day Pipeline Locator Basic Training - designed for employees with little or no experience
---
Professional Utility Locating Specialist Education
PULSE Utility Locator Training Materials and Online Pre-Employment Testing (provided by Great Biz tools)
---
DVD Training Modules (self study DVD's and course books)
Damage Prevention Magazines
---
811 Magazines
---